Starting a School Garden?
Teachers and Administrators, we have compiled a great checklist for starting and maintaining your School Garden. Just email:
While there are many useful guides for school gardens, this checklist is meant to serve as a guide to developing new edible school garden using

Hydro Harvest Farms

automatic Vertical Hydroponic Garden. It is meant to help schools get their gardens started. Also, we offer a free written proposal to meet your grant requirements. All grants will ask you how your are spending the money and we will send you a proposal for your garden to help you qualify for the grant. Most school grants are easy to apply for, so what are you waiting for? We are here to help!

There is NO bad time to start a garden!
Florida Agriculture in the Classroom
John had just met with the Kristi Hatakka, the State School Garden Specialist representing Florida Ag in the Classroom. If you have a School Garden, or plan to put a garden in your school, then Kristi is a very good resource and advocate of the importance of every child having an opportunity to learn where food comes from, and the lessons and wonders of the garden. There are also some very good Awards,
Grants and Workshops coming!
In fact the Golden Shovel Award is here and if you would like to apply, check out this

Info

. See more information below.
John will be participating in the Summer School Garden 2 Day Workshops, taking place in Hillsborough County and Miami Dade County. Of course he will be presenting our Hydro Harvest Hydroponic Vertical Gardens and will be available for your questions. The teachers and children love our gardens, because they work and they are all automatic! If you would like to apply for the workshops check out this

Info

. See more information below.
We know funding a garden can be a challenge, but Kristi has compiled a list and you may find just what you need. Check out the

list

.
If you have a school garden, or have inquired about how to start a School Garden, then you are receiving this information. Kristi would be more than happy to help all of us fulfill the dream of every child gaining the knowledge and experience a garden has to offer. I always say, take the chairs out of the classroom and move in a garden. The garden will teach a child just about everything they will need to know in life!
Hereis Info on the Awards and the Workshop:

Golden Shovel Awards
The Division of Food, Nutrition and Wellness recognizes schools that show outstanding efforts in their school gardens by awarding the Florida Farm to School Golden Shovel Awards annually. The Division encourages students to get involved in nutrition and agriculture education through school garden activities. School gardens allow students the opportunity to learn about the process of getting fresh produce from the garden to their plate and the important role agriculture plays in their everyday lives. The Florida Farm to School Golden Shovel Awards recognize school garden projects developed during or sustained throughout the school year.
The five award categories that schools can enter are:
Judging criteria varies for each category, but all entries are judged on school involvement, curriculum integration and the sustainability plan for the garden. Other criteria include creativity, crop diversity, appearance, learning space and unique garden features.
Applications open on March 1, 2017 and will remain open until May 1, 2017. Contestants are asked to fill out an application for the single category they would like to be judged on. Review the applications for more information and choose the category that best fits your garden program. Please only submit one application per school as multiple entries will not be accepted. Each applicant must include a picture of the garden layout and design.
"School gardens bring the classroom outside and allow students to gain a hands-on understanding of where their food comes from," Commissioner of Agriculture Adam H. Putnam said. "Studies show that children involved in planting, growing and harvesting their own food choose healthier food and show improved academic performance."
The Division of Food, Nutrition and Wellness encourages all schools participating in the National School Lunch Program with a school garden to enter for a chance to win a Florida Farm to School Golden Shovel Award.
Our first collaborative Summer School Garden Workshop at Bok Tower Gardens was such a success that we are holding two workshops in June 2017. We are in the planning stages of the workshops and as we have more information it will be posted here.
Both workshops will be two days and focused on school garden curriculum and resources. Attendees will go home with a bag full of goodies at the end of the two days! Registration fee is $30 and it will cover snacks, lunch both days and resources.
June 1-2, 2017 - Florida State Fairgrounds, Tampa in Hillsborough County in collaboration with Florida Department of Agriculture and Consumer Services Farm to School, Florida State Fair and Keep Tampa Bay Beautiful. There are 100 seats available for this workshop. Draft agenda coming soon.
June 13-14, 2017 - Johnson and Wales University, North Miami in Dade County in collaboration with Florida Department of Agriculture and Consumer Services Farm to School, Miami-Dade School District and The Education Fund. There are 120 seats available for this workshop, 80 of those will be reserved for Dade County teachers.
Teachers, Home School Moms and Dads, Scout Troop, Clubs, everyone, plan a great visit to the farm. This is Strawberry picking season and we have a great educational tour and fun strawberry picking activities for your group. Just email

terrie@hydroharvestfarms.com

for details and available dates.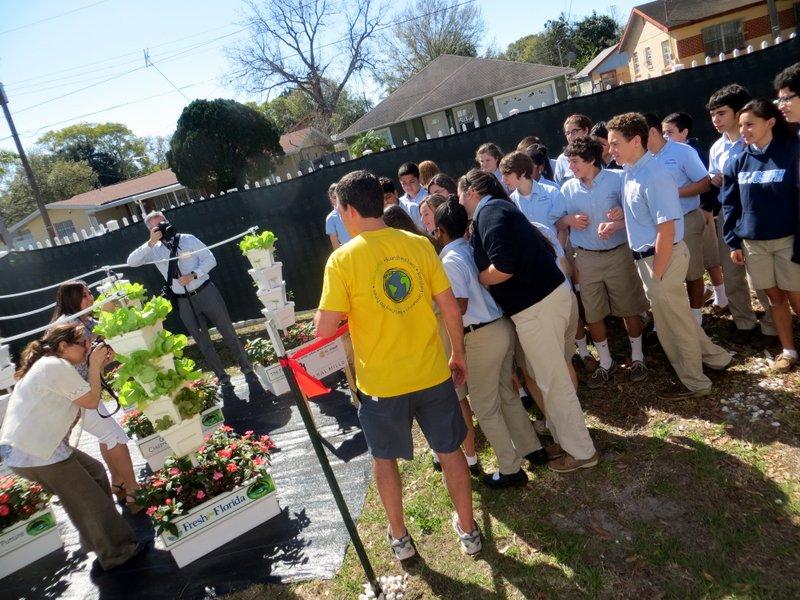 Ribbon Cutting for the School Garden
The Captain Planet Foundation
will fund as many projects as its annual resources allow.
All applicant organizations or sponsoring agencies must be exempt from federal taxation under the Internal Revenue Code Section 501, in order to be eligible for funding (this includes most schools and non-profit organizations).
Deadlines:
September 30th- typically for spring and summer projects
JANUARY 31- typically for fall and winter projects
The Captain Planet Foundation primarily makes grants to U.S.-based schools and organizations with an annual operating budget of less than $3 million.
Grants are made for activities that conform to the mission of the Captain Planet Foundation which is to: promote and support high-quality educational programs that enable children and youth to understand and appreciate our world through learning experiences that engage them in active, hands-on projects to improve the environment in their schools and communities.
Linda took FIRST PLACE!

It all started with a little seed and a teachers enthusiasm for growing fresh food. Bethune Academy has turned their Hydro Harvest Garden into a treasure! Linda, you are an inspiration to us and to all of the children that have come to know you, the school and the little garden that could...

Another grrrreat Celebration for BA! As you know, our resident farmer/master gardener Linda Mobley has been our inspiration to "grow".....

Linda transformed the garden and our Environmental Engineering focus for STEM into an Economics Project; thus, through encouragement for her to write the project and submit it for the Governor's Award for Economic Excellence, her project has been accepted as one of the projects to be considered for the big award. She will be treated like royalty on May 11th at EPCOT completing the day of learning and celebration with a Cirque de Soleil show!

Wow! I am so proud of Linda and we truly are indebted to her for her leadership and collegiality with our learning experiences for farming and gardening.....and "growing"!

Way to go Linda....so proud of you!




HCC Hydroponic Garden
Linda Mobley Bethune Academy
| | |
| --- | --- |
| HCC SouthShore | |
Take a look one of our School Gardens. This Garden is for Eckerd College in St Petersburg. The staff of the College and the Bon Appetite Management Staff have decided to grow their own! We have made many trips across the Sunshine Skyway delivering our fresh pesticide free lettuce and other seasonally fresh veggies. Well, I guess they decided they can save a lot of money and incorporate the Hydro Harvest Farm garden into their curriculum. Your School can do this too. Our School Gardens can be customized to your grant or school budget. Just call John 941-915-7208 or email john@hydroharvestfarms.com and let us know how we can help.



The Victory Garden has 12 Towers, all automatic. With 48 stackable pots that have growing space for 192 plants vertically, it also has 12 Ground Pots for lots more growing space. It comes with Pots, Ground Pots, Nutrient, Growing media, PVC, tubing, upgraded emitters, connectors, pump and timer. The conduit used for the poles to erect towers and the water reservoir do not come with this garden when shipped, but the conduit will be included when delivered locally. A 44 gallon garbage container can be used as a nutrient reservoir. The submersible pump with upgraded emitters will make it easy for you to add many more towers to this system.

We are approved vendors with most School Districts, or we will become an approved vendor. We will submit an Invoice that will list all of the costs so you can get a Purchase Order. We have worked with many schools and are quite familiar with the process. If your grant doesn't cover this cost, we will work on a great garden to meet your needs. Our automatic gardens for schools start as little as $560.00!

$1680.00 for the garden shown to the right.

Call John for details 941-915-7208



Wagner Elementary Lakeland FL